Culture and waste: we can do better
Amsterdam and Paris are cities of arts and culture as well as committed to ecological transition. With millions of tourists visiting every year, the city of Amsterdam has decided to take action and actively make the Amsterdam cultural sector more sustainable, targeting the issue of waste management. The research study "From waste to raw materials in the cultural sector" has revealed that waste in the cultural sector is a major issue: each year, 8,000 tons of waste is produced with cultural activities and 60% of this waste has not been recycled.
What will happen during the creathon?
Gemeente Amsterdam, the French-Dutch Network, Nuffic, the French Institute in the Netherlands and What Design Can Do invites students to work on creative solutions regarding waste management in the cultural sector. Within the framework of the Zero Waste Expedition the Amsterdam-Paris Creathon (May) will focus on the question:
How can cultural institutions involve their audience in order to realize their zero waste ambitions?
Creathons can be best described as 'creative marathons' that bring together talented students and young professionals with different backgrounds and fields of study. Participants of the Creathon will work together on a project which potentially offers a solution for cultural institutions. In a three-day program you will learn about the waste management issues in a cultural city like Amsterdam, you will get involved in research, develop a strong concept through the method of Design Thinking and present your project to a jury of experts. The winners will get the opportunity to further develop and exhibit their project.
Who can apply?
We are looking for students and young professionals from different fields of studies, degrees and disciplines (artists, designers, engineers, researchers, entrepreneurs and more) between 18 and 30 years old. Living and/or studying in Amsterdam and/or Paris and looking to expand their network and skills.
Prospect participants should be:
interested in going into depth with understanding complex problems, with an urge to dive deeper rather than stay at the surface and simplify;
happy to go out on the streets and talk to people to learn about the topic they are trying to understand before they address it;
keen on collaboration with others, good listeners and they empathize easily with team members as well as the participants in their research;
creative and explorative; they do not want to run with the first idea that seems feasible but are happy to explore what other ideas they can come up with.
All events will be held in English. All costs related to participation (travel, meals, accommodation) will be covered by the organizers.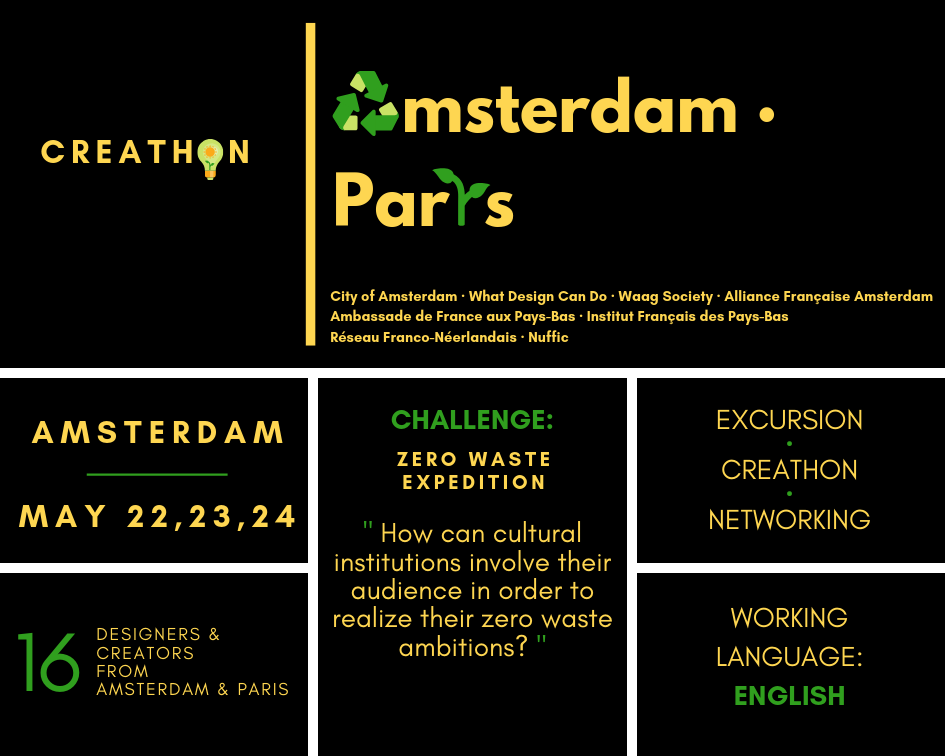 How to apply?
Download the Application Form for the Amsterdam-Paris Creathon (May) and fill in your details and information digitally.
The deadline for application is Mei 6th, 2019
Please send your application to Anièce Lawniczak alawniczak@nuffic.nl and Christiaan Seemann christiaan.seemann@univ-lille.fr